"Recommendations"
Letter of appreciation by Mr. Hemant Madhukar Kulkarni senior principal scientist CSIR (Council of Scientific & Industrial Research Human Resource Development Group) for designing a deatchable 'Bed Cum Wheel Chair' for immobile patients.
Letter of Appreciation by Dr. Arvind Director of "Defence HQ Training Institute", New Delhi for presenting her work (detachable Bed cum Wheel Chair for immobile patient)
Letter of Appreciation from "Suvendeu Memorial Seva Pratisthan" a certified eye care unit.
A mobile application developed with the purpose of preserving natural resources. To halt the speedy process of deforestation which has resulted in current adverse climatic change has been another driving force to create this app. Moreover, the need for providing discarded and used books to every aspiring kid of the locale also worked as a motto. BAPU has emerged as a unique platform where 'knowledge' can be shared amongst all.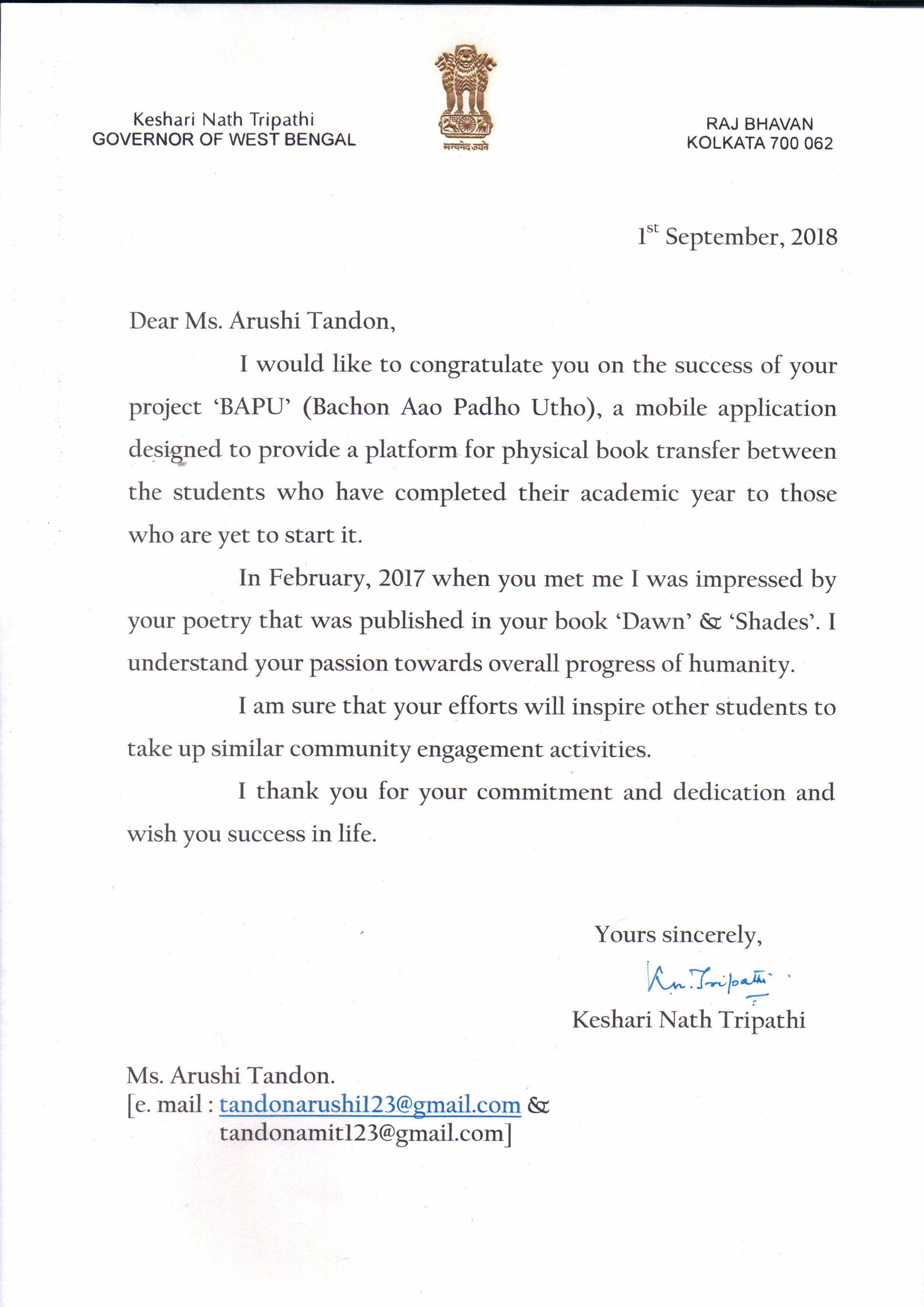 Letter of Appreciation from Governor of West Bengal Shri Keshari Nath Tripathi for developing Android App BAPU (Bachon Aao Pacho Utho)
Download
"BAPU an Android App is an eco-friendly effort in addressing environmental concerns by reducing paper wastage" –Anil Kumar Singh (IAS). Letter of Appreciation.
Recommended by Mr.Biswajit Nandy ,HOD Sports department, Delhi Public School ruby Park, Kolkata.
The Calcutta School of Music established in 1915 is one of the highest platform offering musical sessions and performing art class. It organizes workshops, appreciations session & musical orchestras for passionate individuals.
"Endeavour" in multidisciplinary center in Kolkata that has been catering to the children with special needs.